With traditional stationery etiquette quickly becoming a 'thing of the past', it is no surprise that 'properly addressing an envelope' is a hot topic during our consultations. We value short-cuts just as much as you do…but this is not an area you should skimp on time. Though it may seem silly to you, guests will scoff at a tacky envelope!
Professional Calligraphy

According to traditional etiquette, handwritten professional calligraphy is the only acceptable method of addressing an envelope. Hand Calligraphy is quickly becoming a lost art, making it difficult to track down a professional calligrapher at a reasonable cost. You shouldn't be at all surprised if the cost for calligraphy services exceeds the cost of the invitation ensemble itself!
At one of last years bridal shows, we met a woman who has such a passion for the art that she does it as a hobby and charges a very reasonable price. Though she only offers non-script hand calligraphy, her style is beautiful and her attention to detail precise! Guest addresses are $1.25 each and Return addresses & Response envelope addresses are $.85 each. The turnaround time is 1-2 weeks, depending on the size of the order. Here is a sample of her work: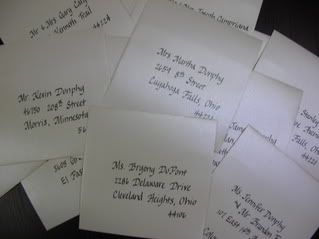 Handwritten
Most of our clients approach the invitation process with the assumption that they will handwrite the addresses – and most don't approach that idea with much enthusiasm! Addressing your own envelopes is the next best thing to professional calligraphy. Make sure you set aside plenty of time, and order extra envelopes for the inevitable writing errors!
Most of the envelopes we use in our designs are metallic, thus, they have a smooth and shiny texture to them. Surprisingly, ballpoint pens work best on the metallic envelopes. Any standard calligraphy pen or water-based pen takes extra time to dry and may smudge easily. This will be a very tedious process so be sure to test out several different options to find a pen or marker that you feel comfortable working with.
Computer Calligraphy

Computer printed calligraphy is quickly replacing hand calligraphy. Though a computer addressed envelope lacks the charm of a hand written envelope, it can coordinate with the typestyle of your invitation bringing an element of design to the ensemble. We offer computer calligraphy on all of our custom designs. The catalogs that we carry have even started offering computer calligraphy which just goes to show you how high the demand is. If I had to guess, I would say that approximately 80% of our clients choose computer addressing. Not only does coordinating the font of your invitation with your envelope looks polished and professional ….it will save you time. If we print your addresses and you pay for response envelope stamps, we will actually stamp and stuff your entire invitation ensemble! Now that's what we call 'taking care of our clients'!
Labels

Applying pre-printed address labels is the only absolute no-no under both traditional and modern etiquette. Your guests will think it's tacky…and we do too! There is a reason why catalog companies include address printing in the cost of the response card and charge a very nominal fee to print the back flap of the invitation envelope – they don't want you to use labels either! Still, if you find yourself in a situation where you must do the unthinkable, we suggest using clear matte or gloss labels and only do so only for repetitive addresses.