So we figured it would be easiest to invite our closest family members and friends to see the studio all at once instead of just letting them pop in from time to time. Don't get me wrong, we love visitors - but as much as I love to talk, I do actually get tired of telling the same story over and over.
What could be better than Food, Wine, Family and Friends? The turnout was bigger than we expected - thankfully I always 'overbuy' for parties so we did not run out of anything. I want to give a special thanks to Alyssa and Pete for helping us with everything. With moving on the 6th it was alot of work to get everything ready for the party. Those two ran errands, helped make food and really just made sure everything came together at the last minute. I know she hates when I mention this - but their friendship is a special blessing to me! Alyssa and Pete were clients of ours for their October 2007 wedding. After our first meeting, I just knew that Alyssa is the long lost friend I never got to have in high-school and I am so happy that we met! Happier yet that they are about to have a baby around Christmas time!
Here are a few pics of how the evening turned out.....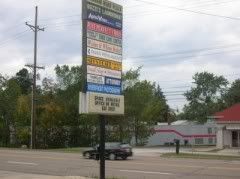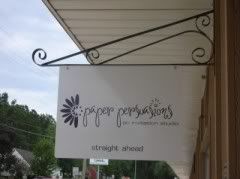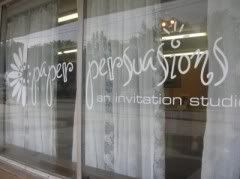 The signs were done just in the knick of time!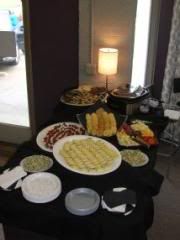 <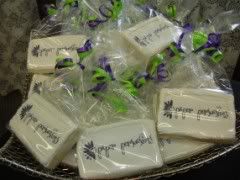 Some of the food - and the cutest cookies in the world. These cookies came from SugarHouse Cakes and Cookies and they have our logo on them!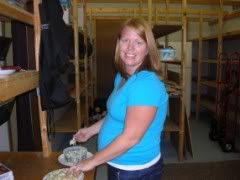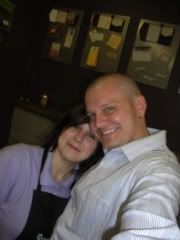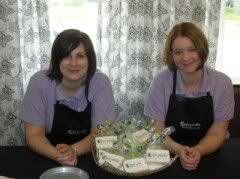 Alyssa and Baby Currie putting the finishing touches on something food related, Stephanie and her husband Dave, Stephanie and Stacy in front of delicious cookies , and finally an early toast with Debbie and her mom from Crains Creative Occassions (they sublet from within our studio)and our friend Katie.
My dad took a ton of pictures after the party actually started - hopefully he will get those to me soon and I can post more!
Thanks to everyone who came out to support us. You have no idea how much it means to have such encouraging and supportive friends and family!
Stephanie