We have been so busy. Busy is good...but it keeps me putting things on the back burner - like blogging. Since we have been so slow to update our website with new pictures, I figured I would post some pictures of a few of the orders that have been keeping us busy all spring and early summer.
This was one of our favorite custom designs. The bride emailed me from out of state and was having a hard time finding the perfect invitation. Her colors were pink and black and she wanted to work with stripes and polka dots. She wanted to blend classic with contemporary and was absolutely about to give up. She was on a budget...and we were able to
incorporate
all elements she wanted and still come in about 30% under budget. She absolutely loved the invitations and so did her guests! We did too...we actually used some of the images in our spring mailing.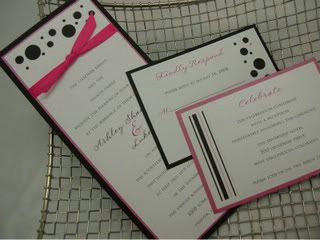 Pink and Black Wedding Invitation - Dots and Stripes
order sample here





This order was for a Akron/Canton area client. When we first met, she wasn't sure about what type of invitation she wanted. She did know that her wedding colors were Silver and Purple and that she was going for somewhat of a "Fairy-Tale" theme. She loved the pocketfolds and wanted to incorporate a simple monogram. Her guest count was huge so this order spent plenty of time in our production schedule!

Silver Pocketfold with Purple and White accents - Wedding Invitations




This was one of our spring favorites! The bride was an Art Major and wanted something that reflected her unique style. Her colors were pink and green. We especially loved that she went with a light green text panel and mailing envelopes. This order was adorable and perfectly reflected her style.
Hot Pink

Pocketfold

with Lime Green/Paisley accents - Wedding Invitations
order a sample of this invitation
here.

These pictures are of a sample invitation that we made for a wedding planner that we work with in the Miami, Florida area -
B'Dazzled
Creations by
Rosiet
. The bride was not sure what color scheme or style she wanted to settle on but she was dead set on the monogram.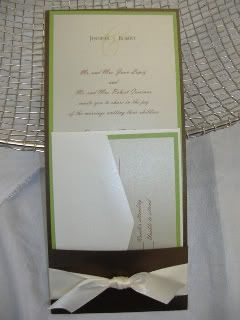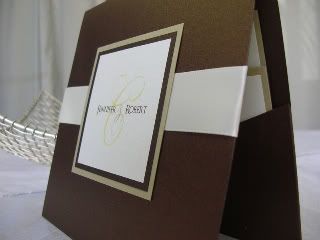 Brown 4x9 Pocket with Lime accents / Brown Pocketfold with Champagne accents





After all the hype at January's Bridal Show, we were expecting Yellow and Orange to make a bigger presence this year. This was our only Orange/Yellow combo so far this season but it turned out amazingly beautiful. The bride was a high-school classmate of mine. She was looking for something totally unique but classy. I sent her several different samples in many different colors and she kept going back to this one. We say "Good choice Elizabeth"!

Yellow/Orange Pocketfold Invitation with Paisley Pattern - Wedding Invitation





Here are a couple of fall themed invitations we did for two different brides. Upon their initial consultations, both knew that they wanted to carry the fall theme (leaves) through their invitations and both wanted square pocketfolds. These pictures really illustrate how we can take two very similar requests and turn them into something unique for each of our clients.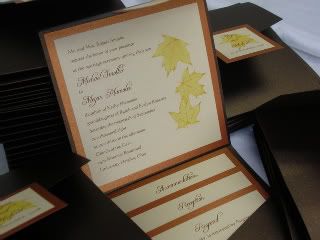 Chocolate Brown and Gold / Copper Pocketfold Invitations with leaves - Fall Wedding Invitations order sample here

Chocolate Brown and Red Pocketfold Invitations - Wedding Fall Theme



And last - but certainly not least - Accessories. Enjoy these last few pictures of accessories that coordinated perfectly with the clients' custom made invitations.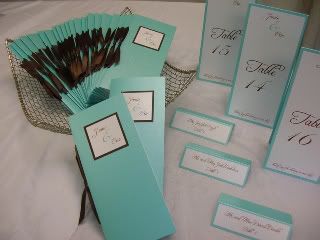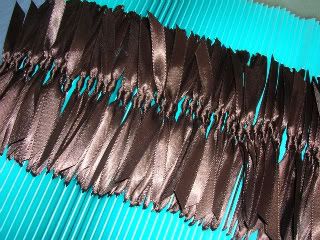 Tiffany Blue/Chocolate Brown Programs. Tiffany Blue Table Cards and Place Cards




Black and White Table Cards, Place Cards, Programs.
So there you have it. A small sampling of what we have been working on lately. I assure you, this is just a small piece of the production schedule. We have a ton more pictures of jobs and we hope that we can update a little more frequently.