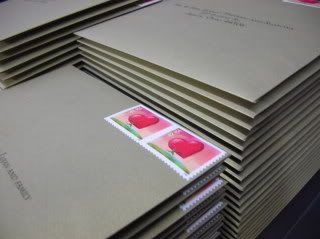 Before you mail your invitations, prepare yourself for a little bit of 'sticker shock'. The cost of postage can be pretty darn expensive! I'm sure you've heard "Stay away from square"...but these days, postage is not figured so much on the size of the envelope as it is the weight and thickness. Even if you rule out square invitations (in which you'd be ruling out some of the cutest options out there...) you might find that by the time you stuff your envelopes and have them weighed, they will cost the same as – if not more than – mailing a square envelope.
Here are a few things to keep in mind when it comes to postage:
Take a fully assembled invitation and all components of the ensemble (including a stamped RSVP envelope) to the post office and have it weighed and measured. This extra step is less of an inconvenience than having to re-address and re-postage all new outer envelopes if they get returned due to insufficient postage. Don't assume you are within guidelines just because you weighed it at work! The size and thickness of the envelope matter too.
Get Creative with Stamps. Your local post office may not have a huge selection of stamps – especially in the higher postage range. Don't settle – be sure to check out www.usps.com for a full selection of stamps available. Stamps are shipped right to your door for just $1.00. There are also other places such as www.zazzle.com where you can customize stamps with your pictures or themes for an extra charge.
Keep it simple. If the postage rate for your ensemble costs more than the first class rate, carefully choose the combination of stamps that you use. You have already spent time and money to properly address your envelopes…. 4 different stamps totaling $.81 isn't going to look stunning next to calligraphy or even your best handwriting. In the picture above, this bride paid the extra $.03 to be able to place two coordinating $.42 stamps on her outer envelopes which kept her envelope from looking 'junky'. Nobody likes to throw money away, but in the scheme of things, 100 invitations with $.03 extra postage totals only $3.00.
Stamp your RSVP Envelopes for your guests. Accurate guest counts are important. The RSVP envelope should always be stamped and addressed to you or whomever is tracking your responses.
Is all this postage killing your invitation budget? Here are a few suggestions for keeping on track.
Substitute formal RSVP sets with RSVP postcards.
Elect flat response cards and reception cards when possible. Folded note style cards are not necessary in these instances and will just add bulk and weight to your ensemble. If the invitation you select only comes with folded cards, consider cutting them in half just below the fold. The side removed can easily be used for place cards later on down the road.
Send 'seal-n-send'or 'sep-n-send' invitations. Not only do these mail at regular postage and have postcard response options – they save trees!