WOW! That's all I can say. We are still swamped with traffic from the bridal show. It's been such a challenge going from 'appointment only' to accepting walk-ins...but I think we are doing a great job juggling things...like say two brides at once!
We've had more catalog activity than custom activity this week..and let me tell you, all shades of blue seem to be the theme. Pool, Cobalt, Cornflower, Navy, Aquamarine, Powder Blue, Hydrangea, Serene....How many more shades can there possibly be???
Despite all the craziness, we managed to take a few photos of custom invites we have worked on this week. All are samples clients have ordered or designed during their consultations.
Tealness/Pool Blue/Aquamarine Pocketfold Invitation
Super cute invite for a bride we have met with a couple of times and had a chance to chat with at the bridal show. She brought in swatches of Pool Blue and Tealness - both Alfred Angelo.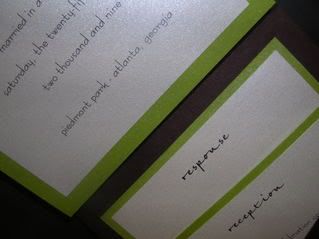 Chocolate Brown and Lime Green Pocketfold
This invite was for a client who found us online. She is having a private ceremony and sending out matching announcements afterwards but instead of the response and reception cards in the pockets, she is going to include a wedding picture in the pocket.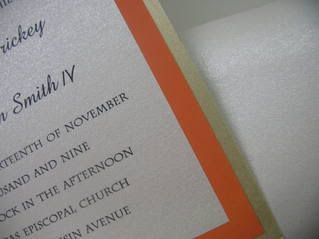 Persimmon and Champagne Pocketfold
This invite was for another online bride. She hasn't even seen it yet - we just dropped it in the mail today! Great color scheme - its nice to see this shade with something other than chocolate brown.
Sage and Pink Pocketfold Wedding Invite
This invite is actually for a bride we met with several months ago. We are finalizing her order in the next couple of days and had to put together the proof packet. We love this color combo! We've been doing alot of Hot Pink and Lime and so the warmth of these softer shades is a nice break!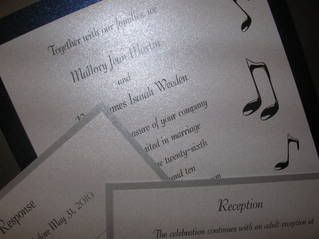 Music themed Wedding Invitation
We recently designed this invitation for the sweetest couple! They met through music and really wanted to incorporate music notes into the invitation. Would you believe that out of all the catalogs we have, not a single one has a music themed invitation? Needless to say, this one turned out great. The couple is working with shades of blue and silver and really liked the idea of using the silver mailing envelopes. Their wedding isn't until 2010, but I am sure we will see them soon - they are super planners!
So - not a bad week at all! We are hopeful, that despite the economy, we keep having weeks like this. Thanks for visiting!
Steph