Are you worried that you will end up in the following situation? - Settling for an invitation that falls just short of perfect? Don't be. At Paper Persuasions, even if you prefer catalog invitations because of budget or tradition, we can help add elements of design from our custom side of the business. We would never spend money on something we 'kinda like' and we don't think you should either! The following is a story about a real bride who worked with us to blend a basic catalog invitation with a touch of customization.
Anna and Chad are having a beach side ceremony and beautiful reception in North Carolina in April. By the time we met them, they had already carefully planned most of the details and seemed most excited about booking an extremely awesome photographer local to their ceremony. When Anna first came in to look at invitations, she knew that she wanted to incorporate various shades of green. Nothing was even close to perfect - but one style did stick with her enough to come back a few days later with her mom and take another look. She wasn't 'in love' with the invitation, but it was the best option she had found so she ordered it.
Since she wasn't 100% sold on the ensemble, Anna planned to search out paper for us to make custom envelope liners for her and after several sample orders from several different paper companies - she did. When she settled on the paper to use - we didn't settle for just envelope liners. We also added a small panel of paper with satin ribbon to the invitation. The end result was breathtaking!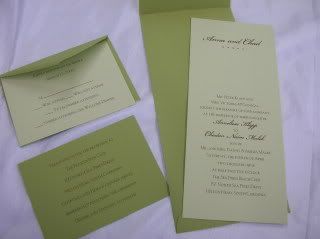 BEFORE - The entire invitation ensemble in alternating shades of green - as ordered.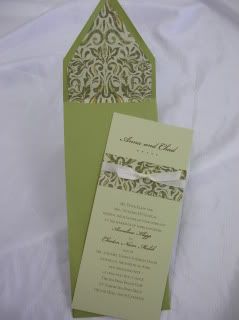 AFTER - just the invitation and mailing envelope shown after adding custom touches.
These photos show how adding just a few simple touches can help achieve a unique custom look while sticking closer to the catalog pricepoint...and who doesn't love that?!