As I type this post - Lee and Mark are probably standing at the alter. And in a couple of hours, their guests are going to discover just how much time and detail was put into the reception accessories.
For the tables, Lee wanted to incorporate a photo of her and Mark. They have traveled extensivly and definitely have the photos to prove it! She decided that instead of the traditional "Table 1", "Table 2" , "Table 3" , etc. - she wanted to name each table after a place they had traveled or a tradition that they share and include a photo specific to the subject. Although it was alot of work on our end to lay out every single card, photo, title and description - Lee was super organized and sent us everything in a manner that made it as easy as possible. When we start our "Real Brides" monthly blog next month, you will be hearing more about them and just how much we enjoyed working with them. For now, here are a couple of pictures of how the table cards and place cards turned out.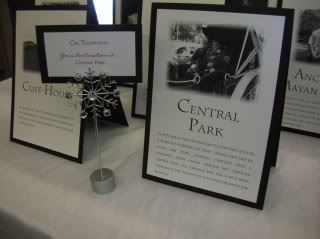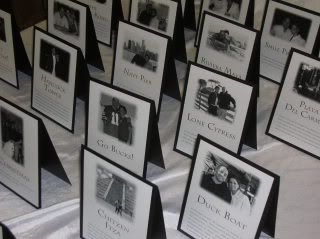 To tie everything into the place cards, Lee and Mark carefully selected a unique phrase suitable to the location or event to indicate which table each guest was seated at. For example, guests seated at the Central Park table found their names on a place card which said "Your destination is Central Park" while cards for guests seated at The Hong Kong Bar table said "join us for a drink at The Hong Kong".
Lee and Mark - Congrats! The sun is shining and it is far warmer than the 20 degree blustery winter day you expected. We can't wait to hear how everything turned out!